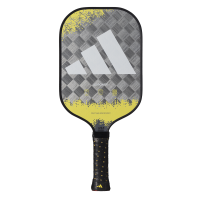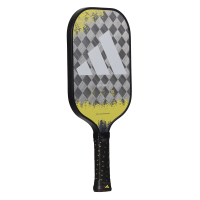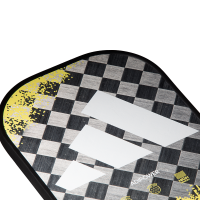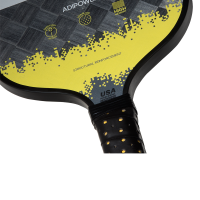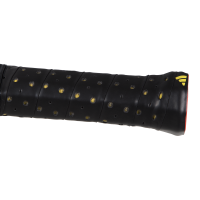 In adidas' top-level line of paddles, the adidas ADIPOWER ATTK 2 Pickleball Paddle earns its "ATTK" mantra by coffering the familiar pairing of an elongated 11.5" x 7.5" hitting surface and a high sweet spot. This pairing encourages powerful drives, serves, and overhead slams. The hitting surface is adorned with a 24K Aluminized Carbon material coated in a Spin Blade Max texture that returns energy to ball for added pop and offers tack that enables you to balance out your powerful play with tricky spinning cut shots. To continue this theme of attack, the ADIPOWER ATTK 2 Paddle is packed with 14mm of High Density Polypropylene. The Honeycomb style core returns energy to the ball for added pop, limits vibrations, and adds just a little bit of control to ensure you can keep your slams on the court. The 5" handle wrapped in a Perforated Cushion grip allows you to reload quickly when your opponent tries to counter your powerful play with technical dink offs. Finally, carbon fiber reinforcement around the edges and across the lower part of the face adds torsional rigidity that prevents the paddle from twisting in your hand and limiting power. The ADIPOWER ATTK 2 Pickleball Paddle from adidas gives advanced to professional players a powerful paddle with an elongated shape, high sweet spot, and poppy high-density core.
Pro
Attack
Top
Carbon Aluminized 24k
High Density Polypropylene Honeycomb
Carbon Reinforcement
Carbon Fiber
Spin Blade MAX
Yellow
PU-EVA Combo
5"
4 1/8"
7.5oz - 7.8oz
14mm
16 1/2 " x 7 1/2 "
Pickleball
Adipower
2023
Questions
Be the first to ask a question about this product!